Biography

Solidly in his second quarter-century as a professional musician, Rob now presides over the piano in Austin and Texas hill country hotels, restaurants, patios, airports, wineries and parties, singing standards and favorites.
Don't miss the razzmatazz piano, vocals and patter of the ultimate piano man, Rob Mahoney.
The music of Rob Mahoney and his piano; always great music, always funny and always entertaining -- The Piano Man.
Rob Mahoney, the piano man, will get you smiling and having a great time, no matter what kind of music you are into.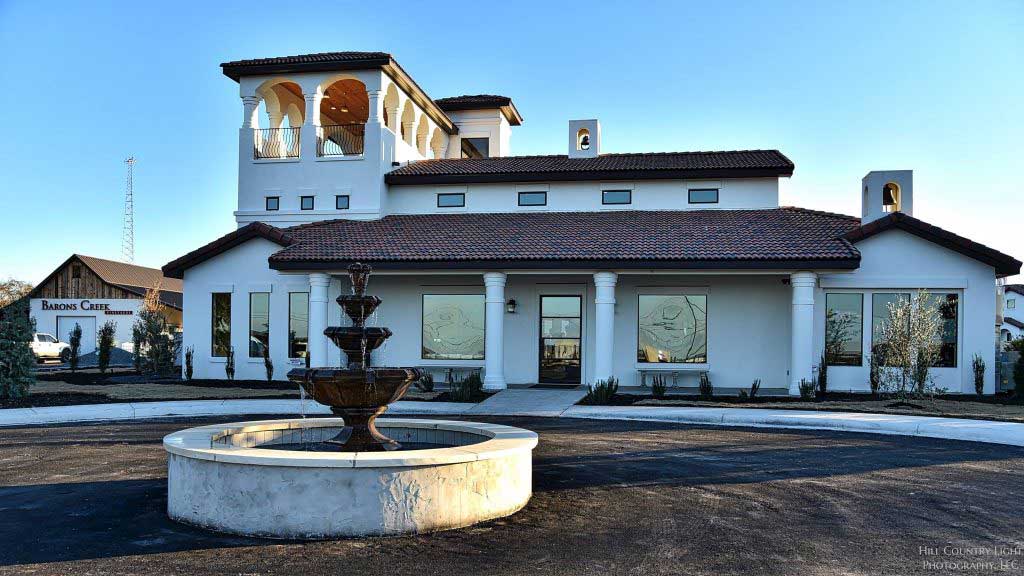 Barons Creek Vineyard is a beautiful vineyard just a few miles east of Fredericksburg, Texas on WineRoad290.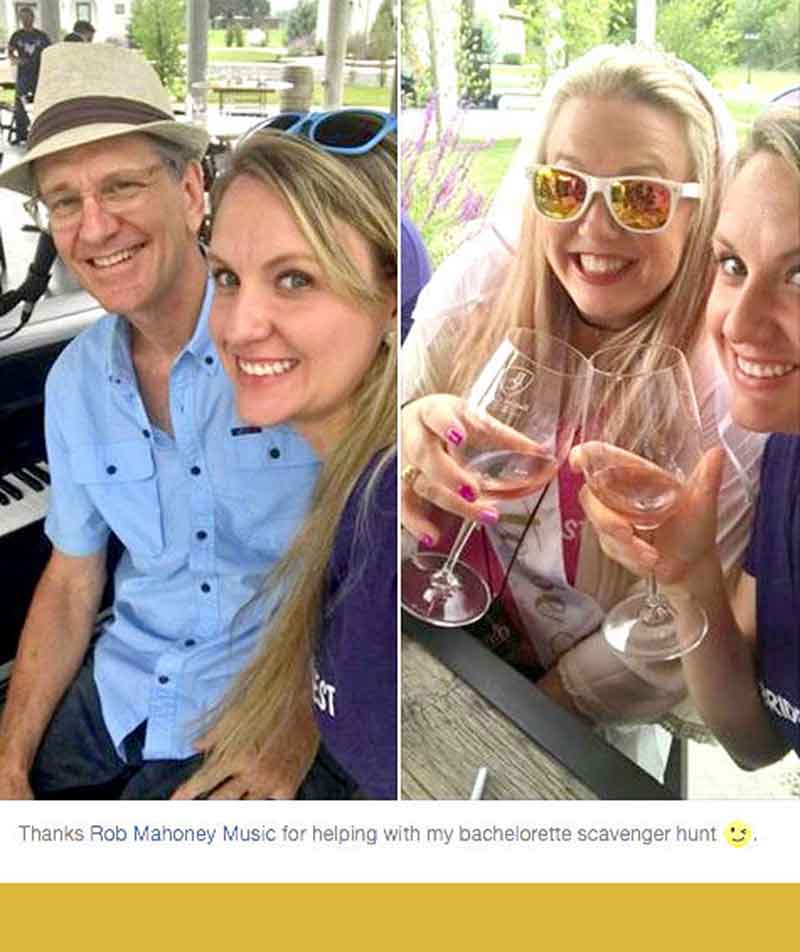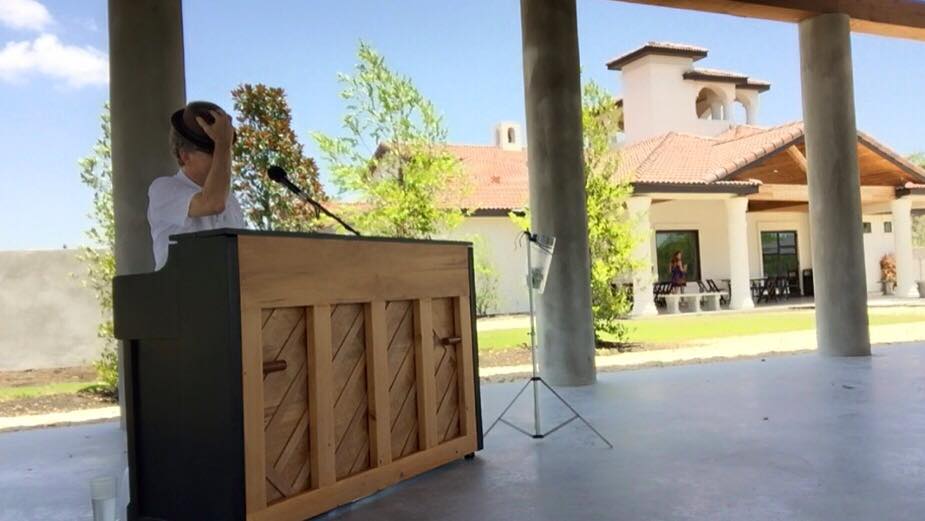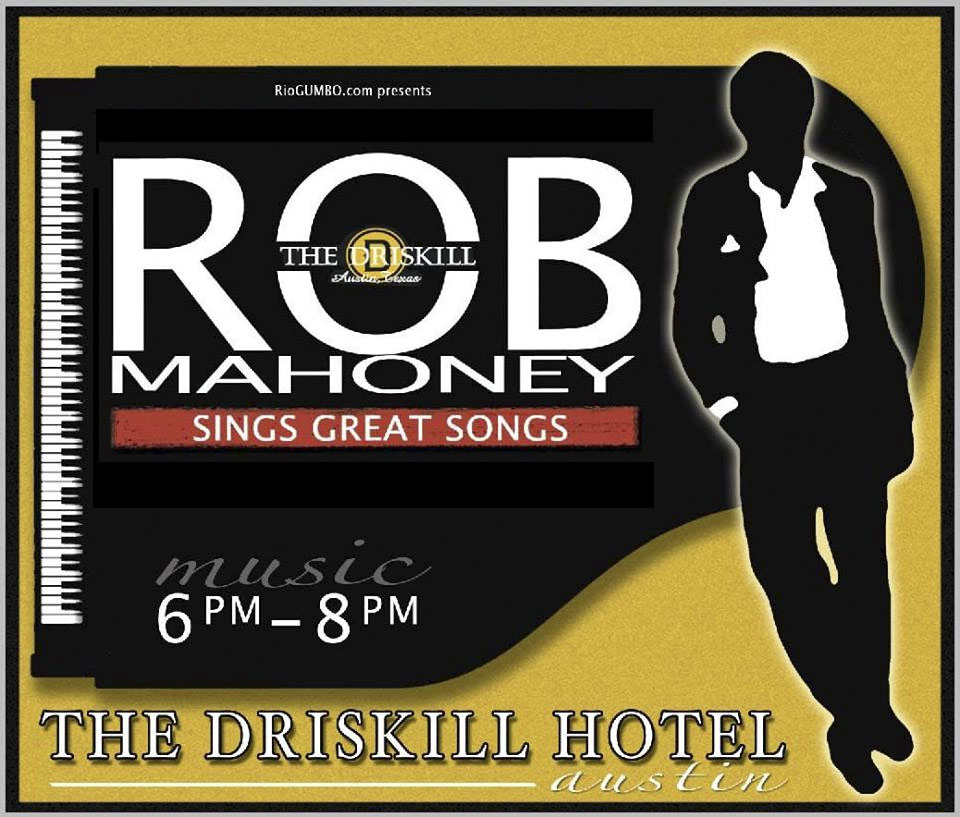 Monday happy hour at the historic Driskill Hotel in Austin on 6th Street, just off Congress Avenue.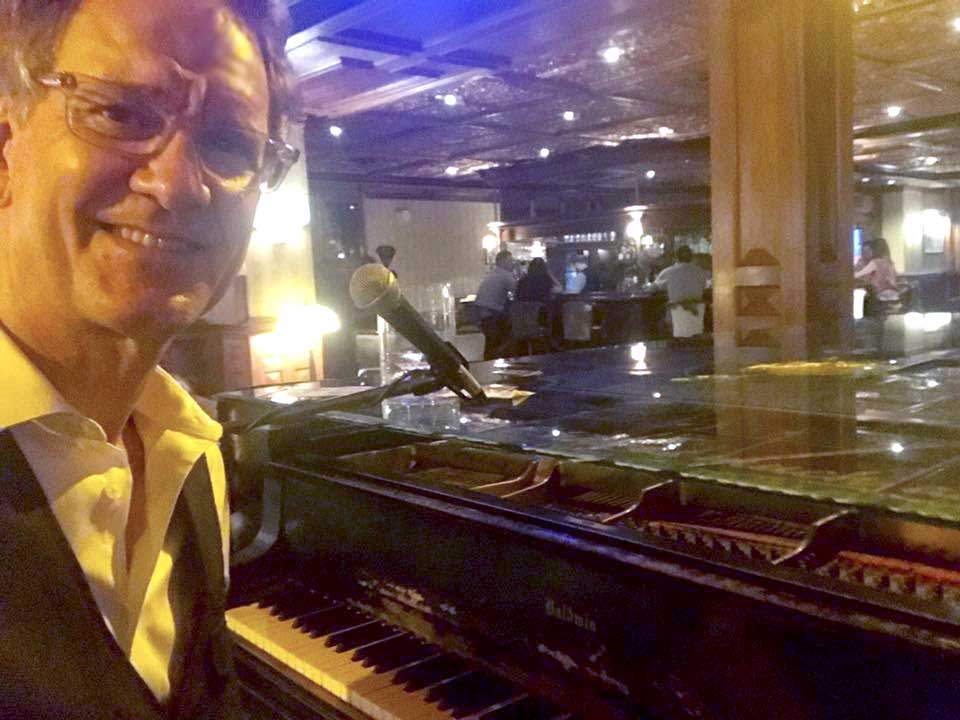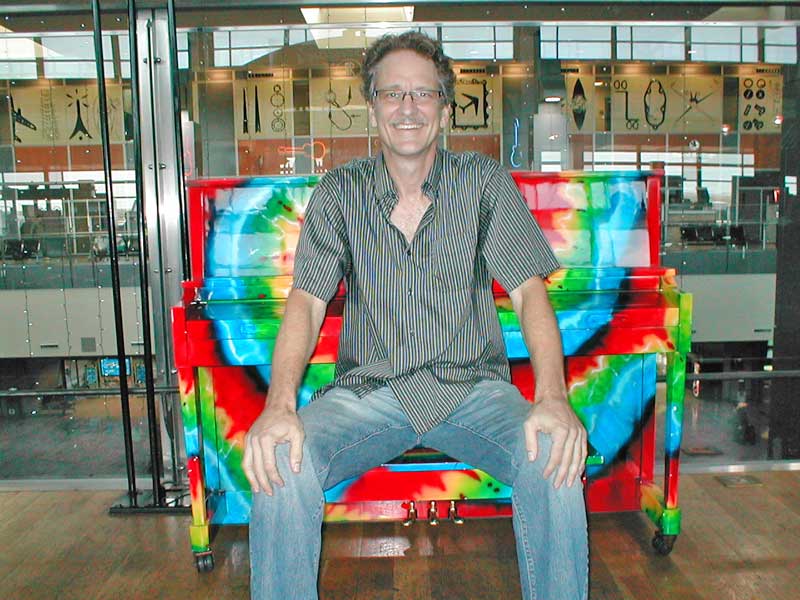 Here Rob is seen on the tie-dyed Baldwin piano that he plays at The Ray Benson-Asleep At The Wheel Roadhouse Saloon at the Austin-Berstrom International Airport. Rob also regularly plays other venues within the airport, such as Annie's, Ruta Maya Coffee House, Saxon Pub and Waterloo Records.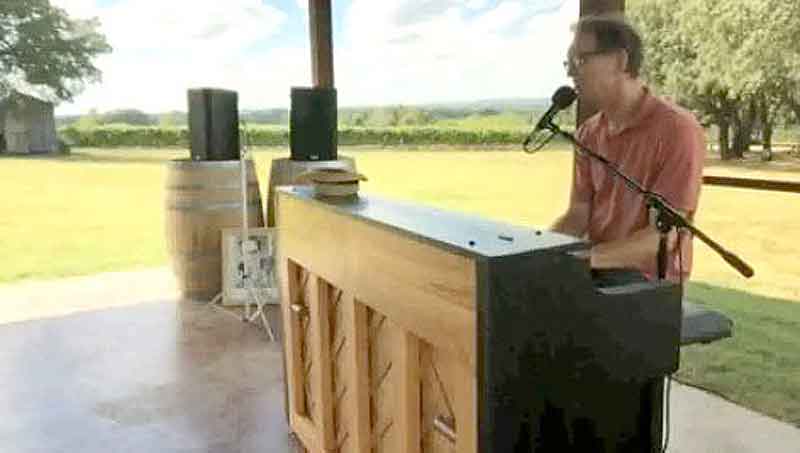 William Chris Vineyard in Hye, Texas is one of Rob's frequent stops on WineRoad290 in the Texas Wine Country.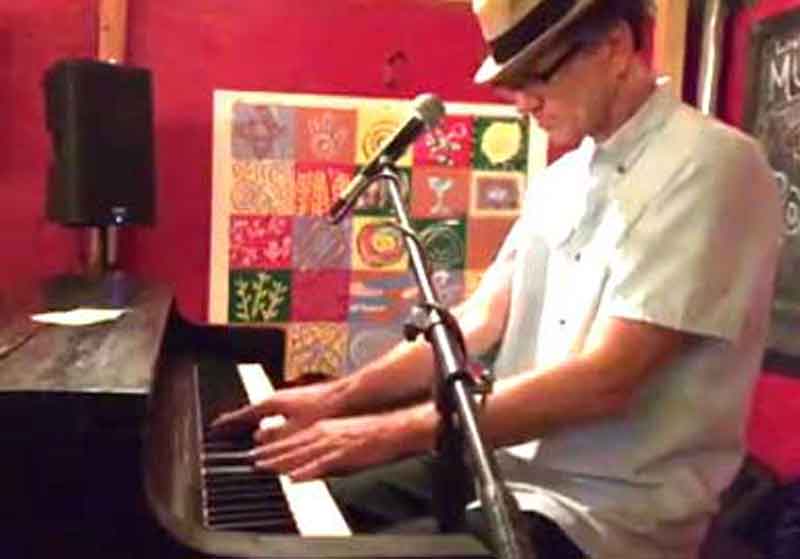 West End Pizza Co in Fredericksburg, Texas is a fun place to listen to music on the patio. It is hands-down the best pizza around with a great staff.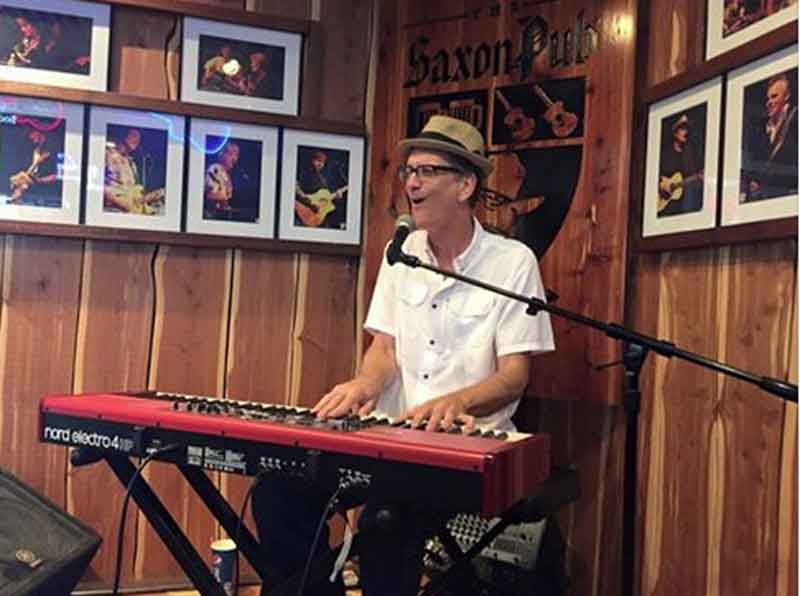 The Saxon Pub at The Austin-Bergstrom International Airport in Austin, Texas
Linda's Fine Foods in Wimberley, Texas. Check out the traveling piano on the porch or on the hearth.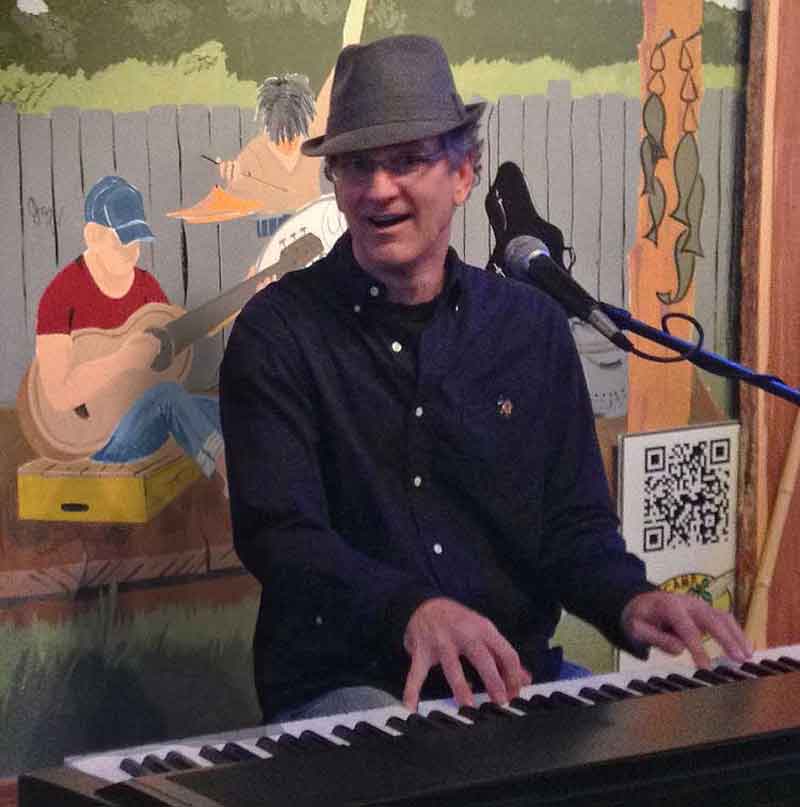 Doc's Fish Camp & Grill in Marble Falls, Texas is a great place. The food is terrific, the staff is friendly and the music ain't half bad, either. The music is from 7 PM until 10 PM.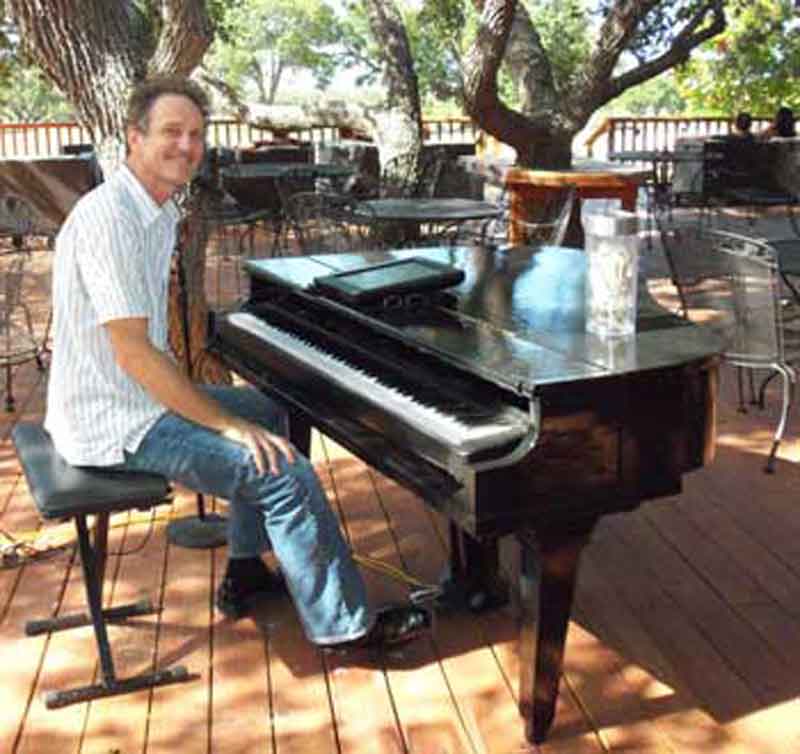 Rob plays his traveling baby grand piano at many wineries and vineyards in the Texas wine country, including Texas Hills Vineyard, William-Chris Vineyard, Barons Creek Vineyard, Hilmy Cellars, Pedernales Cellars, Lost Draw Cellars, Western Edge Cellars and Chisholm Trail Winery.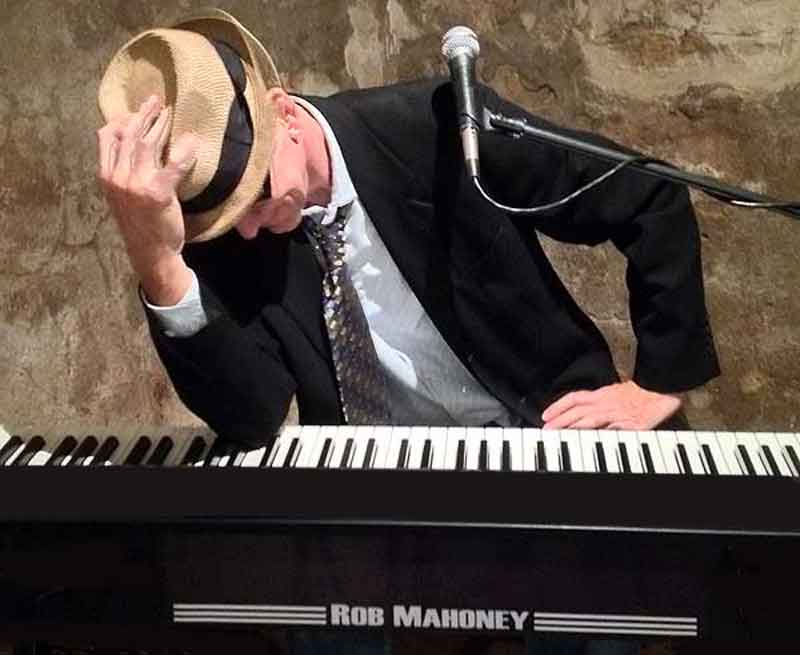 For three years Rob played every Friday night at Rathskeller Underground Cafe in Fredericksburg, Texas is in the basement of the original hospital in town. High quality food in a casual atmosphere on Main Street with music from 6 PM until 9 PM.
Rob hosts a weekly jam with his accordion at Tapz32 in Johnson City.
In his more than three decades as a professional musician, Rob has played with many bands including the globe trotting reggae sensation The Killer Bees [Live In Berlin], the boots & hats reggae veterans I-Tex [Border Crossing], funk-rock double threat No Sisters, funk mistress Elouise Burrell's New Mix, and has opened for many great bands from The Neville Brothers to Jimmy Cliff.
Rob has appeared on television as the music talent, as well as hosting many hundreds of hours of award-winning television, has been heard on radio countless times, was a voice actor in many video games and audio books, has been seen and heard on thousands of radio and television commercials, and received Austin Music Awards and a NAIRD-award from the National Association of Independent Record Distributors for his efforts.